NDHKids 2.0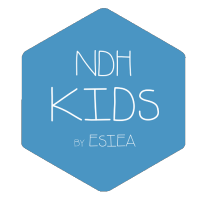 NDH Kids 2.0: A day dedicated to the young people from 8 to 16 years-old who love to experiment, learn and seek for a great time through fun, and creative workshops.
Electronics, programming, tests of physical phenomenon and chemical reactions and experiments, will be entertained by renowned pedagogues in each of the fields proposed.
This free event will take place at Academie Fratellini while free meals and snacks will be provided to the young fellows.
---
Useful information
Event Timetable: 10:00 A.M. to 06:00 P.M.
Doors opened at 09:30 A.M.
Contacts :

Laure : 06.67.73.38.92
Jules : 06.35.59.31.72

Mail : kids@nuitduhack.com
Access
1-9 rue des Cheminots, 93210 Saint-Denis La Plaine
Transports :
RER D, Stade de France-St Denis Exit
RER B, La Plaine-Stade de France Exit
---
Previous edition
The previous edition which took place last year in June 28, 2014 has gathered more than 35 participants in 5 workshops:
DOMINOUX, THE ELECTRONICS DOMINO
Get familiarize with the arc welding and by these curious and tiny electronics circuits to transform them into brighten and powerful dominos. Each domino transmits its power through light to its neighbor, so don't be afraid to pull them together into complex strings and others mazes to create surprising and astonishing effects!
Speaker : Electrolab (Hackerspace and Fablab near Paris)
COMPUTER'S BODY
Open and discover the inside body of a computer and get learn from it! Let's learn what a motherboard is for and as a ventirad and let us distinguish a graphics board from a sound card; solve the pieces of the puzzle and put together again the all pieces by yourself. Is the computer will be able to start again?
Speaker: iTeach (3 In'Tech Info students)
INTRUSION DETECTION SYSTEM WITH RASPBERRY B
Do not let anymore anyone getting into your room without notice: complete your secret agent tools with an intrusion system detector! Learn how to encode with a Raspberry Pi and how to make use of an ultrasonic sensor; you will be then able to send an e-mail alert!
Speaker: Hussain Ahamed & Adrien Petillot (Startup MainTool)
NERFGUN'S HACK
You will not miss targets anymore when playing! You will learn how to boost the range of a Nerfgun by discovering and modifying its mechanisms. Each of your darts will reach a further target as never before! Each participant will have when leaving the booth his/her own Nerfgun; an NDH Kids' present!
Speaker Damien Cauquil aka Virtualabs (R&D at Sysdream and Hacker-Bloger)
---
Enrolment
Please send an email to kids@nuitduhack.com with the following information. We will confirm the enrolment by email.
Information about parents :

Name
First Name
Address
Phone number
E-mail address

Information about the children attending :

Name
First name
Gender
Date of birth

Medical information :

Food allergy
Medical allergy
Specifics about foods
Any complication that we should be aware of

Other :

Recommendations (glasses , hearing aid, etc)
Does the child go back home alone? If not whom is picking him up?
Legal Information
All the informations gathered in this form are to be used only by the organisators of the event, NDH Kids 2.0. By no mean the informations are to be shared with any third party.
In accordance to the law of the January 6 1978 and his extends of 2004 you have the right to access all the data that concerns you in our possesion. You can as well express your right to modify the said informations. You can also, for rightful reasons, oppose to the gathering of your informations.
---
Call for papers
Conditions
The event will take place June 20th from 10 AM. to 6PM., you must arrive at least 1h30 before the beginning of your first workshop.
The workshops are presented several times so that every group of children can participate.
The workshops are planned for groups ranging from 10 to 12 kids of 8 to 16 year old, and must last around 1h.
From last year experience, we could notice that the theoretical explanations and too complex workshops needed to be simplified for this year and limited to the essentials.
For that reason, abstract explanations must be limited and must be inserted into practical workshops to keep the audience focused on the explanations; to entertain an 8 year-old child with a limited concentrate capacity is a difficult matter.
Workshops must be fun and need to be for that reason organized in a form of a story with games, including interaction with children and the production of an object.
We will explain every sectors of the hack: understanding/experimenting, modifying/playing, creating/modeling. Here are the themes:
Small electronic circuit (soldering, components for a final useful object at < 5 euro)
Objects of the daily life ( except household appliance)
Physics
Chemistry
Introduction to RasPi (workshop for the 14-16 year-old)
Toys (last year toy was a NerfGun)
New technologies (be aware at the danger of the theoretical issues)
Hardware (in computers or in any other objects)
...
Respond to the CFP
To respond to the CFP, please send us an email to kids@nuitduhack.com with the following information :
Name
First name
E-mail address
Phone number
Your experience with kids
The theme you chose :

Small electronic circuit
Objects of the daily life
Physics
Chemistry
Introduction to RasPi
Toys
New technologies
Hardware
Other

A description of the workshop in a few lines
The required hardware
Age targeted :

8-10 ans
11-13 ans
14-16 ans

Compensations wanted ?

Food
NDH2k15 ticket
Reimbursment of your transport (maximum 15€)
You must be available June 20th 2015 from 9:30 AM. to 6:30 PM., you are organizing this workshop as a volunteer.